Advertisement: Your game is loading in 10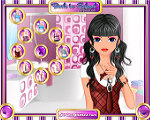 Back To School Makeover Game! Cleansing, steaming, squeezing—who knew getting ready for school was so much work? Cleanse, shower, and squeeze this studious sweetie 'til she's squeaky clean, then browse through the dress-up options for the perfect back-to-school outfit!
Instructions: Use the mouse to play this game.