Advertisement: Your game is loading in 10 seconds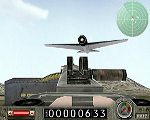 Defend your position against increasing waves of attacking soldiers and aircraft in this 3D first-person shooter. Look out for ground troops, but don't neglect the deadly skies! Survive the longest to secure the highest score.
Instructions: Use the mouse to play this game.