Advertisement: Your game is loading in 10 seconds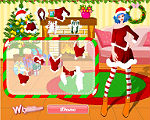 Cute Christmas Dress Up Game! This girl is spending Christmas evening with her parents. As a surprise she will be going as one of Santa's little helpers. Choose the right clothes so she looks cute for her parents!
Instructions: Use the mouse to play this game.